When moments count, we're here for you.
Pet Emergencies happen when you least expect them. Our team of veterinarians and staff are here for you and your pet when you experience an emergency outside of your veterinarian's regularly scheduled hours.
Night Watch Elite Animal Emergency
20770 US HIGHWAY 281 N, #101
San Antonio, TX 78258
When moments count, we're here for you.
Pet emergencies happen when you least expect them. Our team of veterinarians and staff are here for you and your pet when you experience an emergency outside of your veterinarian's regularly scheduled hours.
Night Watch Elite Animal Emergency Clinic 
San Antonio
20770 US HIGHWAY 281 N, #101
San Antonio, TX 78258
Our days/hours are:
Monday 6pm-8am
Tuesday: Closed
Wednesday: 6pm-8am
Thursday: 6pm-8am
Friday: 6pm-8am
Saturday: 6pm-8am
Sunday: 6pm-8am

No appointment required, but please call ahead  at 210-455-4559 so we are best prepared to handle your pet's emergency.
Animal Emergency and Critical Care Hospital  
San Antonio
Night Watch Elite Animal Emergency is a walk in Emergency Animal Clinic providing after-hour Emergency Animal Care for San Antonio, Helotes, Boerne, New Braunfels, San Marcos and surrounding areas including Bexar County, Bandera County, Medina County, Wilson County, Guadalupe County, Comal County and Kendall County.
 Our Medical Director, Doctor Manning, has 25 years in Emergency Veterinarian Medicine.  He has been trained to perform life-saving interventions for emergency situations and critical illnesses in pets. Doctor Manning is surrounded by a technician staff that is highly trained in caring for patients needing Emergency and Critical Care. 
 Night Watch Elite Animal Emergency Clinic is open Thursday-Monday from 6 pm – 8 am for your Pet Emergency and Critical Care needs. If your pet is experiencing an emergency or needs after-hours care, please call us at 210-455-4559.
 Here are some important tips and information for you in order to ensure a smooth visit.
Please make sure that you have filled out our

PATIENT INFORMATION

form before you call us. Once we have your form, we will input your information into our system.  Having this form sent to us before your arrival allows us to get you checked in swiftly upon arrival.

A

t this time, we are still curbside only,

except in cases of euthanasia

.  Please remain in your vehicle at all times and do not leave the parking lot until you have spoken to a doctor and authorized an estimate and/or treatment plan.

As soon as a technician is available, they will go out to your vehicle, obtain history and bring your pet inside.  In times of inclement weather, a technician may call you to obtain history prior to going out to your vehicle.

Please be aware that we will see your pet on a first-come, first-serve basis, however more critical patients will be seen first. 
For critical situations, we may ask you to sign an

Emergency Authorization Form,

which authorizes us to perform emergency medical care to stabilize your pet and states your wishes regarding resuscitative measures.
We DO have a public restroom available. Please call and let reception know if you need to use our facilities and they will let you in.  We ask that you wear a mask when coming inside the clinic.  
All pets should be appropriately leashed or in a carrier prior to handoff to a technician. This is especially important with our feline friends, who may become skittish and try to escape when carried.  If you do not have a cat carrier, please let the receptionist or technician know and we can provide you with a temporary carrier.
Any estimate you sign is an agreement to pay up to that amount authorized at time of discharge.  We do not offer in house payment plans, but we do accept care credit and scratch pay.  If you would like more information about care credit or scratch pay, please call us and we will be happy to provide you with information regarding payment options.

 
Every patient and every client at Night Watch Elite Animal Emergency is extremely important to us.  Night Watch Elite Animal Emergency Hospital will provide the most thorough treatment plan to ensure the best possible care for your pet.  Thank you for entrusting us with the care of your beloved pets.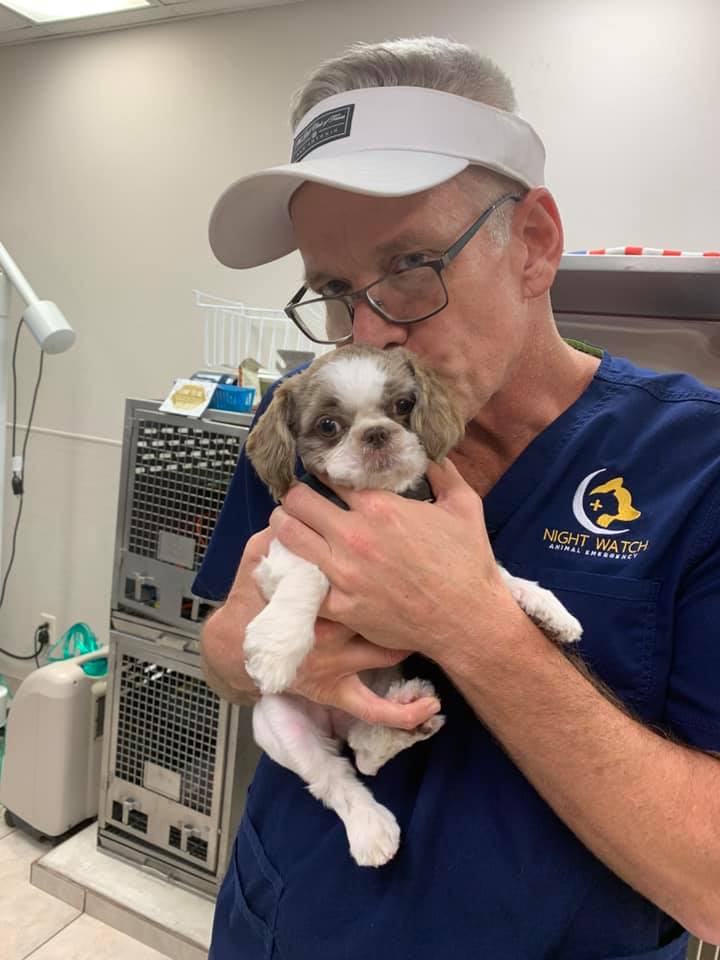 Veterinary Technicians in Action
Will my pet be seen immediately?
In general, patients are seen in the order they arrive. More life-threatening cases, however, must take priority over others.
If you feel your pet's condition is life-threatening, please notify us immediately, and the doctor will perform an examination without delay. As this exam is conducted in the treatment area, and due to COVID-19 Procedures, you will not be present with your pet. The doctor will contact you personally to discuss findings and arrange a treatment plan. If your pet is in critical condition, you may be asked to sign a release allowing immediate treatment. Unlike a regular veterinary hospital, we cannot "schedule" our appointments.
Please fill out the Patient Information Form before you arrive or when you arrive so we have all the needed information pertaining to your pet.
How is Emergency care different from regular Veterinary care?
Emergency care is available at times when regular veterinary hospitals are not open. As it is impossible for a daytime veterinarian and his or her staff to provide service around the clock, a centralized emergency center allows for intensive after-hours care by a specially trained staff with extensive equipment. Veterinarians referring cases to an emergency center want their clients' pets to receive the best possible after-hours care. The emergency center, however, cannot replace the historical knowledge and valued relationship you have with your regular family veterinarian. After initial treatment, all follow-up care will be done by your family veterinarian.
How much will emergency treatment cost?
A doctor must perform a thorough physical exam before he or she can determine what treatment, if any, is recommended. Following the exam, you will receive an estimate for the treatment plan that the doctor recommends for your pet. Upon approval, you will be required to leave a deposit in the form of cash, ATM, check, or charge card for the low end of the estimate. Please feel free to ask questions if you do not understand any aspect of the estimate or treatment plan. We want your pet to receive the best possible medical care. We have partnered with Care Credit and Scratch Pay to help you with your Pet's care.
Can I bring my pet in for routine care?
We do not provide vaccinations or perform routine health care. Our hospital will provide emergency care when your family veterinarian is not available or your pet requires intensive care — no appointment is necessary. Our doctors and nursing staff have advanced training and expertise in emergency medicine.
If I leave my pet, when do I pick him/her up?
If the doctor recommends that the pet be hospitalized due to his or her medical condition, you will need to make plans to pick your pet up by 7 AM the next morning for its return home or transfer to your regular veterinarian. If your pet is not picked up by 7 AM we will transfer your pet to a daytime veterinarian for a fee of $150.
As the emergency doctor may be unexpectedly busy, we rely on you to call for periodic progress updates. We will, however, contact you at any hour if your pet's condition should decline unexpectedly. Please provide us with an accurate phone number that we are able to reach you on in the middle of the night.
Had to bring our pup in around 10pm tonight and tried to go to two other emergency clinics first, One said they were too busy and another seemed very uncaring and were in no rush. We called a 3rd clinic which referred us to Night Watch. As soon as we called, you could hear the empathy through the phone and were waiting at the door upon our arrival. They treated our lil baby and the price was not excessive at all. Our entire experience has been wonderful and we highly recommend this animal hospital.
We were referred to Night Watch Animal Emergency. Not only did they take care of Zeke promptly, but the staff was beyond friendly and knowledgeable. They broke down every medication prescribed, why and for what it was being prescribed, and were honest with me when it came to his care. I feel like most emergency care offices try to take advantage of our frazzled state because we will do anything to care for our fur babies, but the staff at Night Watch matched my sense of urgency without making me feel worried, and did not recommend any treatment or procedure that they did not feel was required for Zeke. I pray you never have to rush your baby to an emergency vet, but if you do, Night Watch is a place you can trust.